Peak Frequency
sound visualisation

Digital screen visualisation of site-specific sonic patterns, displayed on the corner of Flinders Street and Elizabeth Street for the Fivex Art Prize, Melbourne, 2020.



Peak Frequency is a hypnotic representation of our urban space, reflecting and distributing what is already there in pursuit of encouraging critical awareness of the systematic and routine foundations of our public lives. The work is a spectrogram, time is represented on the x-axis, sonic frequency on the y-axis, and decibel intensity is colour.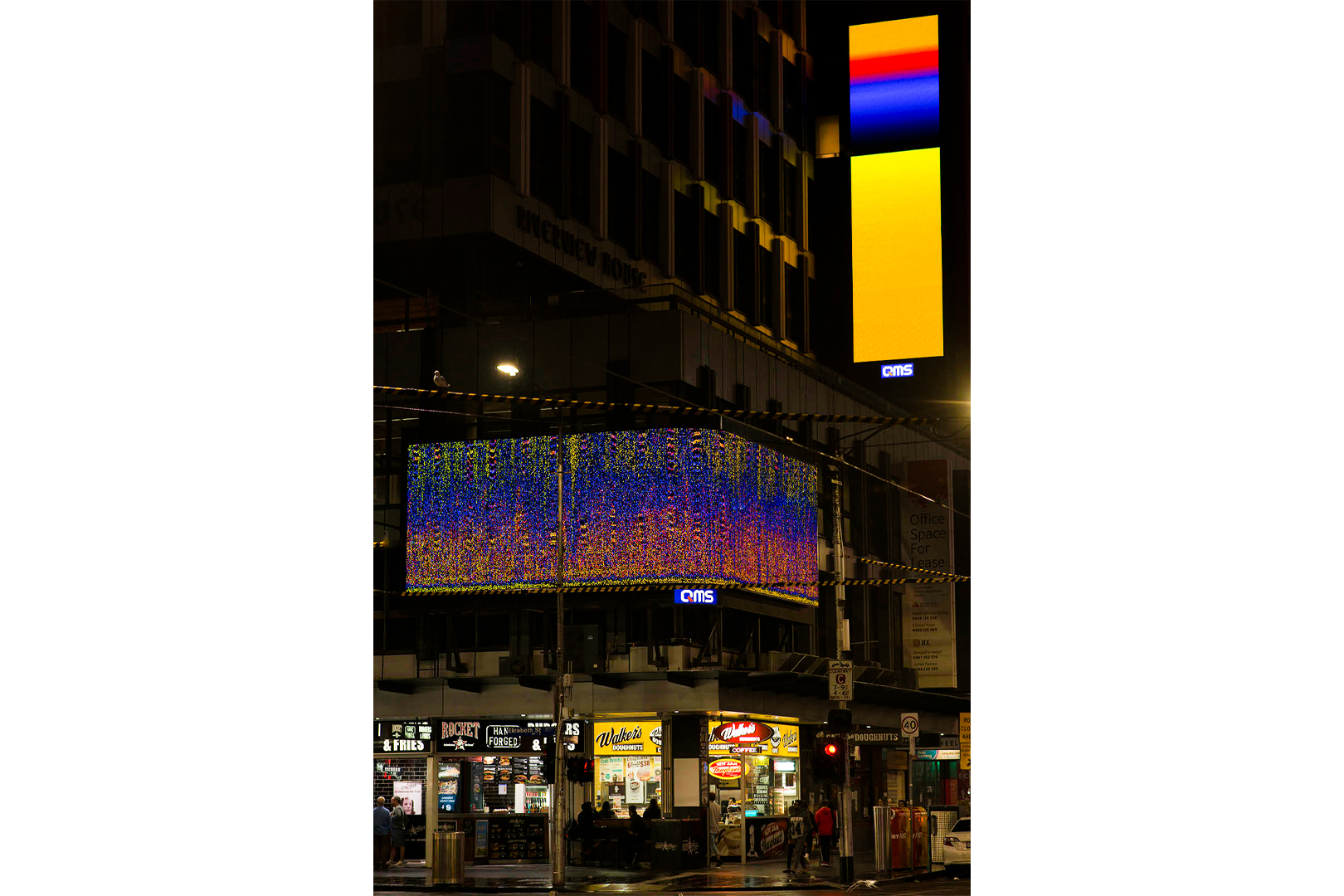 Anthroposphere
data sonification


Algorithm that generates musical compositions from the air we all breathe, collaboration with Michael Kotsimbos and initial support from the City of Yarra, 2021.


Existing as a set of rules and functions, Anthroposphere can be thought of as a synthetic orchestra, with air pollutants as the instruments and our carbon footprint as the conductor. Currently, the algorithm has generated a digital album made entirely out of Melbourne 2020 air.

Instruments of Life
Two kinetic objects that interact with each other, solo exhibition at No Vacancy Gallery, Melbourne, 2019.

Lamp (counteracting lamp)
ultraviolet bug light, anti-insect yellow light, steel, motor, cable
dimensions variable

Pickup (electromagnetic microphone)
inductor, cable
dimensions variable



Instruments of Life is an investigation into our primal familiarity with technology. This installation is made up of two key components. Lamp incorporates two distinctly different frequencies of light in motion: one that attracts organic life, while the other repels it. Pickup is a custom microphone synthesizer that detects and translates electromagnetic waves (emitted by Lamp and any electrical device in its vicinity) to sound.
Black Box
mixed media
75 x 55 x 55 cm


Feedback machine commisioned for 'You Are Here' group exhibition curated by Matthew Davis at Melbourne's Living Museum of the West, 2019.
Rotating PA System that uses feedback as a means of addressing and responding to the specificities of site. Affected by the proximity of listeners and changes in atmospheric conditions, the sculpture amplifies the multiple resonances of the site's architecture, social conditions and environment.
Precipitations
steel, pixel map led, quadraphonic audio
dimensions variable

Interactive audiovisual performance incorporating light, sound, and viewer proximity, collaboration with Mitchell Mackintosh at Grant Street Theatre, Melbourne, 2019.
Stemming from John Luther Adams' ideas on 'Sonic Geography', Precipitations is an immersive installation that uses light and sound to explore the interconnectivity of our 'internal' psychological space and 'external' constructed environments.